Okay, I'm still recovering from ALA MidWinter 2016, and attentive followers will note that I actually tweeted out this thing's existence prior to the conference!
So why wait until now to post, you ask? I WAS BUSY. Sorry.
Don't fret y'all — I already e-mailed my comments to Janis Young at LC, because I know my feedback is hella valuable. But why should you miss out on my aforementioned valuable feedback? You shouldn't. Here are some highlights/musings. Also do not take this to be an authoritative play-by-play, READ THE MANUAL.
[Note, I'm not including any of my feedback on typographical errors because that's hardly substantive enough for the likes of you!
---
MARC Coding of LC Genre/Form Terms Assigned in Bibliographic and Authority Records J 105
The most interesting part of this memo (to me) (beside the Danny Joudrey shout out in example 1.a) is 1.b
A $3 subfield may be used to describe the part of the resource to which a term applies. Examples:

505 0# $a volume 1. A-H — volume 2. I-Z — volume 3. Biographies of important figures in education.

655 #7 $a Encyclopedias. $2 lcgft
655 #7 $3 volume 3: $a Biographies. $2 lcgft
While $3 is in the
MARC spec for the 650 field
, there's nothing in the Subject Heading Manual that explicitly states that you can assign headings to pieces of a resource like this. I find it interesting that they lay it out so clearly in the first memo for the LCGFT.
Assigning Genre/Form Terms J 110
This is the clutch memo to read, if you read NO others, read this one.
1. General rule. Assign genre/form terms only as they come readily to mind after a superficial review of the resource being cataloged.
That's the first rule, and frankly it's pretty good. Get it done.
"Say, this movie has a dragon on the cover!"
"Code it Fantasy films"
Note: The use of the phrase "significant proportion" is deliberate. Catalogers should take the intent of the resource into account and display good judgment when assigning terms from multiple levels of the hierarchy in this manner. (emph mine)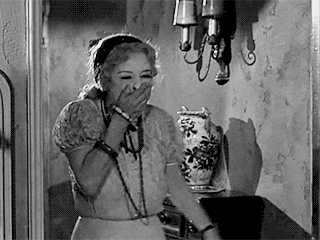 Lest you miss your faves in LCGFT — fret not! We still have both Rule of Three, and Rule of Four in place.
12. Subdivision of genre/form terms. Genre/form terms may not be subdivided, neither topically, geographically, chronologically, nor by form.
So that's the last time I expect to see
655 _ 7 Science fiction films $z France. $2 lcgft
or some such in a master record! Ya hear me?
When to Establish a New Genre/Form Term J 120
2. New genres and forms that are not yet identifiable. When a resource being cataloged is of a genre or form that appears to be new but it is judged to be not yet definable and identifiable, assign available terms that most accurately describe the genre/form of the resource.
It happens to us all, sometimes you're cataloging a resource and you go to analyze its genre/form and suddenly you're all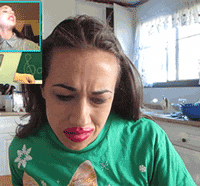 IT IS UNIDENTIFIABLE
Okay, so don't just make something up for that oddity of a resource.
Authority Research for Genre/Form Term Proposals J 160
Note: Crowdsourced web sites and social media such as Wikipedia, DBpedia, Twitter, etc., are not generally considered to be authoritative when proposing genre/form terms.
So make sure to do checking in one of these 
preferred sources
compiled by ALCTS – CaMMS for proposing new LCGFT terms, rather than just adding
670 _ _ $a @OpOnions, January 19th, 2016: $b (he said he loves 'Those kinda movies with a single location and small cast and usually a bad twist')
Citation of Sources J 162
Maybe it's just me, but it strikes me odd that they're including in the LCGFT memos how to record citations from telephone calls and email correspondence. Since we're not recording info on persons/families/corporate bodies, what kind of info do they expect we're going to be finding out from these phone calls and emails that aren't found in the MANY reference sources?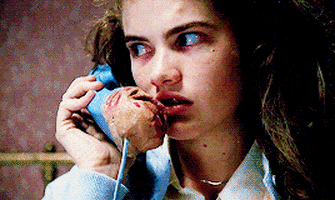 Form of Authorized Genre/Form Term J 180
Use natural language, this means:
Terrible films
not Films, Terrible
Inscrutable poetry

not

Poetry, Inscrutable
Broader Term References J 186
"Orphan" terms – terms having no BT – are prohibited in LCGFT, except for the topmost term in each hierarchy (e.g., Instructional and educational works; Law materials; Motion pictures).
So make sure to have a  BT in mind when proposing a term. If there's really no decent BT, congrats you've discovered a heretofore unknown facet! Go propose the  BT you wish existed while you're at it!
I'm also excited to have specific memos dealing with subjects! That's right, just like in the SHM, and that's also right…I get excited by memos.
Right now those subject-specific memos are:
Legislation and Legislative Histories
Literature
Moving Images
Music (coming soon!)
Radio Programs
Now having just checked, as of press-time the relevant memos in the SHM which previously covered these as genre/form terms still exist. But presumably some time after the LCGFT manual leaves 'draft' status, they'll remove those redundant SHM memos.
Moving Images J 240
(not a joke) I really appreciate the clarifications provided for "films for the hearing impaired" both that it refers to intent, not just any subtitling, and the reason "video recordings" is also in the vocabulary.
That has come up very often in discussions both at work and on list-servs, so it's not see it addressed. Same goes for the specification in the background section that "films" does not just refer to "motion picture film" but any moving-image on any medium.
So that's that, eh? Pretty glad to have some formal documentation to point to!
---
The context is: check LCSH before proposing a new genre/form term, and if that term exists in the former, use it for the latter:
Example: The work in hand is a film made by a child. The topical term Dystopian films exists in LCSH and can be proposed for use as a genre/form term.
So…I'm pretty sure they meant Films by children? Unless this is some weird burn by LCSH that all "Dystopian films" are amateurish as though made by a child. I don't know.